By SCDigest's On-Target e-Magazine, January, 16, 2014, SCdigest.com
With Growing Global Requirements and Complexity, Visibility will Help Reduce Risks and Costs; Changing Views on Inventory and Shipping. Crate & Barrel, a leading retailer in the area of home furniture and furnishings, like many others is finding that globalization brings many opportunities – while increasing challenges and risk.
The company was founded in Chicago in the 1960s, and used an import model for much of its merchandise right from the start, so it has understood the importance of inbound logistics excellence for more than five decades.
Currently, Crate & Barrel sources from about three dozen different countries, and over the last five years has also really started expanding internationally in terms of store locations, according to Virginia Thompson, senior director of import and export for the chain.
But the challenges of importing and exporting continue to grow, according to Thompson, with an explosion of rules and regulations.
"I'd say from my perspective 9-11 is really what kicked it off," Thompson said on a recent Videocast on our Supply Chain Television Channel on Crate & Barrel's approach to global supply chain excellence and how enhancing its supply chain visibility is playing a key role in that effort. "But in recent years, we've seen a host of other new regulations too in terms of product safety, food safety, plant security, and more, and that's just kind of the US flavor of it – you have the same thing around the rest of the world. It's a growing challenge for us."
To watch the full videocast, which is excellent, go here: Crate and Barrel's Holistic Supply Chain and the Role of Supply Chain Visibility. You can view of brief excerpt from the full broadcast below.
eCommerce, of course, has also brought on a number of other opportunities and challenges, Thomspon said, making it possible for consumers across the globe to purchase Crate & Barrel products on-line. But eCommerce is also upping the consumer's expectations in terms of service and information at the same time.
The price transparency that comes with eCommerce, growing global competition, and the lukewarm economy since the great recession, have also continued to make cost reduction a key supply chain imperative as well. "We're really being charged with squeezing every penny out of every transaction," Thompson said. "That pressure has always been there, of course, but maybe more so now than ever before." And with growth and globalization comes increasing risk. There will be mistakes, and sometimes things will go wrong, Thompson noted – the question become how fast can you respond.
To reduce both supply chain costs and risk, Crate & Barrel determined that increasing its supply chain visibility could play a key role in meeting both challenges.
"Ultimately, what we've determined is that having data about our supply chain, knowing what is where and when, is really the key to meeting those demands," Thompson said on the Videocast.
To that end, Crate & Barrel recently decided to implement a new visibility system (from Amber Road, a provider of global trade management solutions) to provide detailed end-to-end views of orders, inventory, shipments, events and more across its global supply chain. Stephanie Miles, SVP of Commercial Services for Amber Road, noted that the goals and scope of visibility solutions have expanded tremendously in recent years. "21 years ago when I started in this business, we'd think we had a big implementation if we connected between 5 and 10 trading partners, and we had users in maybe 10 countries," Miles said. "Now it's common that a company connects 40 to 50 trading partners, and will have users in 20 to 30 countries." She added that the focus used to be primarily on inbound import visibility, but that  now generally a visibility system includes outbound export visibility and international transfers as well. Visibility, in combination with the right organization and structures, can also enhance supply chain flexibility, Thompson added. "The key in my opinion is flexibility," she said. "Because what worked yesterday may not work tomorrow. It may not even work today." She said that is especially true with regard to order fulfillment to its international franchisees and store operations. Like many companies expanding internationally, Crate & Barrel is working to evolve what had been a very US-centric supply chain into one that is truly global in nature. "We need to get merchandise to our global trading partners faster and at less cost," she said. "A lot of the systems we are putting in right now and the new processes we are adopting are aimed at doing just that. Ultimately, our goal is to be able to put any Crate & Barrel product anywhere in the world we need it, fast and cost effectively." That will include being able to see where inventory is "stuck" in some locations, and being able to move it to areas where it is needed – which may in the end result in smaller, more frequent shipments that may cost more per unit shipped, but pay off in higher sales and reduced inventory costs.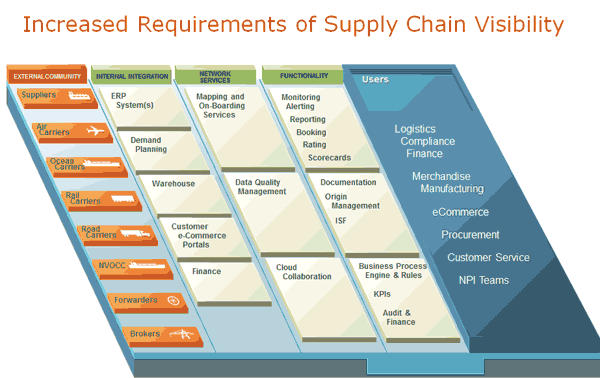 Source: Amber Road
"What I think we are starting to understand, not just at Crate & Barrel but as an industry, is that the costs that go along with inventory that you are owning too long, or that you have sitting in the wrong place in your supply chain, are higher than the costs of perhaps not shipping as cost effectively," Thompson noted.
She believes the new supply chain visibility capabilities Crate & Barrel is currently deploying will give the company the tools to make faster and smarter decisions about its inventory and its global shipping. Amber Road's Miles emphasized that global supply chain now involves multiple functions: transportation, compliance, finance, sales, etc., observing that a visibility system can serve as "one version of the truth" that can be accessed by all these functions. That's also different than in the past, where visibility was primarily used by global shipping managers so they could tell buyers where their POs were and not much more. There is a lot more to this excellent story of Crate & Barrel's journey. Again, the full vidoecast can be viewed on-demand here.