By Mike Roberts, Dec 09, 2013, Blog.lnsresearch.com
Building a strong supplier quality management strategy isn't only advisable, it's requisite in today's global economy. And market leaders are turning it into a competitive advantage.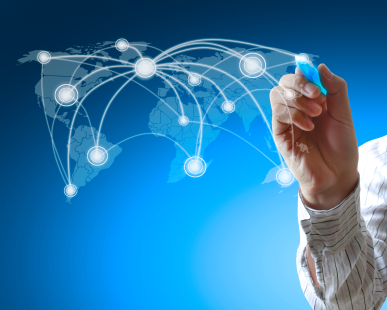 Building a product isn't the same as it was 10 years ago and it won't be the same 10 years from now. Today's fast-paced business world is evolving at a rate such that market leaders have no choice but to continually adapt to emerging strategies in order to gain an edge over the competition. As relationships with global partners become more of a necessity as well as a focal point in business, the need for adaption is undoubtedly a top-of-mind issue for those responsible for supply chain management.
The complexities of today's products seem to be rising analogously with the complexities of supply chains. Just consider the intricate web of suppliers required to make a product like an airplane, a number that easily extends into the thousands. Whether it's regarding supplier quality, compliance, or another area, managing that many suppliers can easily become overwhelming and disjointed. Advancements related to people and leadership, business processes, and technology architectures are helping to battle this.
Many of today's market leaders are executing supplier quality management so well that it's become a source of differentiation from close competitors. The strategies employed to achieve this level are always maturing and building on past successes. We've identified the top 5 that you need to know about.
1. Build an Integrated IT Architecture That Extends Deep Into Your Supply Chain
It's no surprise that today's large (and even small) organizations face an IT architecture comprised of disconnected data sources and systems. These solutions are often implemented to solve a set of problems without considering that longer-term strategic vision of a seamlessly integrated set of enterprise solutions. For supplier quality management this raises some major challenges, especially if financial, engineering, quality, and operational systems are disconnected.
Market leaders are thinking about the big picture, investing in integrated solutions that enable communication and collaboration from procurement up through design, manufacturing, and service. This means companies are creating closed-loop quality management by integrating enterprise applications across the value chain. Supplier Quality Management Software, which can be delivered standalone or through an extension of existing enterprise solutions like EQMS, PLM, MOM, or ERP, is much more effective when part of the overall integrated IT architecture with access to enterprise financial, product, supplier, and asset data.
By adopting these emerging solutions, companies are able to automate many traditonally paper-based and manual processes, and manage them on single system rather than numerous disconnected ones. Integrating these data sources with other enterprise applications delivers levels of visibility and interaction between functional units that some companies have been striving to achieve for quite some time.
2. Implement a Supplier Risk Scorecard Solution that's Standardized Across the Enterprise
With suppliers comes risk, and supplier risk scorecards are critical to managing, understanding, and mitigating that risk. Companies that rely on many suppliers are developing supplier risk scorecards and processes to evaluate and rank suppliers based on historical and current performance. When you're dealing with hundreds of suppliers, such a process can become the cornerstone of your SQM initiatives.
It's important to develop a standardized way to evaluate and rank suppliers that extends across the enterprise. Again, this can be achieved with many of today's enterprise supplier quality solutions, as well as other enterprise systems. The elements of standardization and centralization are key for improving the integrity of your enterprise risk portfolio, as well as for providing data-backed insight for decision-makers in different business units aiming work with suppliers.
3. Identify a List of Metrics and KPIs to Monitor Supplier Performance
Every department will have its own way of measuring supplier performance, but it's advisable to develop a list ofsupplier metrics and KPIs that should be measured across all business units. Standardizing the way these metrics are calculated and reported on will deliver major benefits when it comes to identifying areas for improvement and determining which areas require more resources or some type of change. Metrics to consider include:
Success of new product introductions
Defective parts per million
Percentage of defective products received
Percentage of returned products
Chargebacks for non-conformances
Complete and on-time delivery
Percentage of products out of compliance or quality standards
4. Create a Collaborative Environment and Establish Processes for Managing Supplier Compliance and Audits
Because many suppliers are located around the world, there will always be the challenge of making sure the parts and components being produced and delivered meet compliance requirements. Compliance requirements may be internal or external specifications, or more formally meeting government regulations or industry standards. Market leaders, especially in highly regulated industries, are leveraging supplier portals to communicate requirements and verify that they're being met.
Supplier audits can support meeting compliance requirements, but not every organization has the resources required or the processes in place to conduct them. It's crucial to establish a collaborative relationship in conjunction with formal audit management plan, which delineates the frequency of on-site visits, reporting requirements for suppliers, and the depth into the supply chain to which you'll go for auditing suppliers. If these relationships are built on trust and both parties see that increased focus on quality delivers benefits to all initiatives and change are much more likely to be effective.
5. Hold Suppliers More Accountable For the Quality of their Suppliers' Products
One of the challenges of working with suppliers is that they have their own supply chains. Not only do you have to rely on them to perform, you also by default have to rely on their suppliers. Many market leaders are extending the responsibility of supplier quality management down to suppliers, holding them accountable for the quality of products. In some cases, market leaders are even investing in their suppliers' SQM capabilities to reduce the potential for and cost of poor quality.
Building a Foundation of Quality Throughout the Value Chain
Interested in taking a deeper dive into supplier quality management, supplier risk management, and the role of enterprise quality? Join LNS Research's President & Principal Analyst, Matthew Littlefield, and Supplier Quality Process & Audit Manager at GE Healthcare, Mark Bienkowski, for a webcast on the topic. The duo will discuss emerging best practices and strategies for ensuring supplier quality, as well as examples the strategies used by GE Healthcare to successfully manage quality at the enterprise level.